MPs urge emergency tugs rethink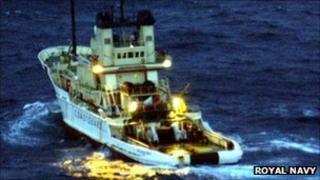 A committee of MPs has urged the UK government to think again about its plans to get rid of emergency tugs - which can go to the aid of ships in trouble in Scottish waters.
Two coastguard vessels, based in the Minches and Shetland, are due to be withdrawn in a fortnight.
The Transport Select Committee said it was a "short-sighted" measure.
The Westminster committee said any savings could be wiped out by a single incident such as an oil spill.
After the Braer tanker ran aground off Shetland in 1993, spilling 85,000 tonnes of oil, the Donaldson inquiry recommended tugs should be permanently stationed around Britain's coast to help vessels in distress.
Since then four tugs, or Emergency Towing Vessels, have been on standby at public expense around Dover, England's south west, the Minches and Fair Isle.
It costs about £8m a year.
Commercial sector
Ministers believe the current contracts are bad value for money and ship salvage should be a commercial matter between a ship's operator and the salvor.
Labour MP Tom Harris, who sits on the transport committee, said he recognised that the current contract was "not good value for money".
But he said: "We are talking here about the potential for loss of life, of huge damage to the environment, if these emergency towing vessels are removed and are not funded by the commercial sector."
He added: "Unless the Department for Transport have got new plans up their sleeve we are going to be without cover in the Western Isles and the Shetlands in just two weeks' time."
He said the savings which would be made by the move were a "drop in the ocean" and the government was playing a dangerous game with people's lives.
Mr Harris added: "If they get a commercial operator to come in and provide exactly the same level of cover that we have at the moment then I would welcome that.
"The fact is that in other parts round the coast in England, the government have managed to get commercial funding in to provide these emergency towing vessels but in the Western Isles and Shetland that has not happened.
"If the government think it is a reasonable solution to withdraw cover completely, they are absolutely wrong."
Scottish government Environment Secretary Richard Lochhead said: "As a maritime nation, Scotland highly values the coastguard service and the dedicated men and women who do so much to keep people safe on our waters. But as a maritime nation, we are also acutely aware of the dangers that can arise at sea.
"That's why I echo the select committee's concerns about the decision not to renew the contract for emergency towing vessels and will be writing to Parliamentary Under-Secretary for Transport Mike Penning to urge him to think again.
"The emergency towing vessels in Scotland have an important role to protect both the environment and mariners. That is why we are calling on the UK government to reverse their decision and retain the currently level of provision until a suitable alternative can be identified and introduced."