Stornoway's Anglian Sovereign in for Aberdeen refit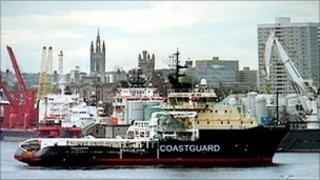 Tugboat the Anglian Sovereign has sailed into Aberdeen Harbour for a refit following its withdrawal from coastguard duties.
The ship is one of four UK emergency towing vessels leaving service with the Maritime and Coastguard Agency.
The UK government said the commercial shipping industry must take responsibility for salvage operations.
In Scotland, the Anglian Earl was expected to remain on duty until Friday.
Highland Council's leader Michael Foxley has attacked the decision to withdraw the tugs.
European local authority environmental organisation, Kimo, joined the criticism of the end of the service.
The group's UK chairman, Len Scoullar, described the withdrawal of the tugs as "ludicrous" because of increasing use of the sea for marine renewables, fish farming and moving freight.