Nevis Range to offer avalanche transceiver training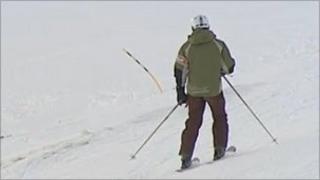 Nevis Range is in the early stages of creating an area where people could train in the use of a device designed to help find avalanche casualties.
The ski resort's proposal is similar to Glencoe's avalanche transceiver training park, which opened this year.
Nevis Range in Lochaber is working with US-based firm Back Country Access and the UK supplier of the devices.
Ski patrol manager Jeff Starkey said the area would be free to use and help to promote safe back country skiing.
Mr Starkey said some terrain around the ski centre posed a potential avalanche risk.
He said the transceiver park would be made available to skiers, snowboarders, winter skills groups and mountain rescue teams.
At Glencoe nine buried transmitters were made available to help people practise in how to operate the transceivers.
Most people buying the equipment are believed to be climbers and snow sports enthusiasts who venture into remoter parts of Scotland's hills to climb or ski.
Two skiers from the Edinburgh area survived being swept 2,000ft (610m) down a mountain by an avalanche in Glencoe in February 2010.