Surfer Charly Martin fined for having knife in Thurso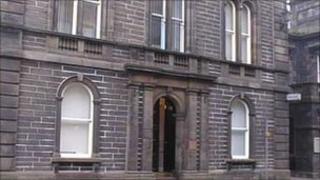 A surfer ranked number three in the world has been fined £500 for carrying a knife in public.
Charly Martin, 21, from Guadaloupe, in the Caribbean, had been competing at an event in Thurso in April.
Wick Sheriff Court heard he had armed himself with a knife after he and three other surfers were later involved in a bust up at a party.
The court heard that a prison sentence would have ended a lucrative deal with sponsors Nike.
Martin was unaware it was an offence to carry a knife in public in Scotland.
Cutlery tray
The court heard that he and his friends, also professional surfers, were attacked at the party on 18 April.
Martin fled back to his hotel where he discovered one of his friends was missing.
Before going out to look for him, he armed himself with a long-bladed, serrated knife from a cutlery tray.
The court heard that the weapon had stayed in Martin's pocket when he was the victim of a follow-up attack in a street by a mob of between 10 and 15 people.
After being struck several times, he returned to his hotel where he was met by police.
The court heard he handed over the knife to them before being arrested and kept in a cell overnight.
Andy Murray
Solicitor Neil Wilson said Martin, a surfing professional for five years, earned about 50,000 euros a year before tax, which he used to support himself, his parents and his younger brother.
Martin was described as his sport's counterpart to Scottish tennis player Andy Murray.
Fellow competitors had advised Martin not to return to the UK but he had chosen to do so and face the consequences, the court heard.
Sheriff Andrew Berry said that in the exceptional circumstances, he would not jail Martin and said he would not be practical to impose a stint of unpaid work in the community.