Muntjac deer invasion could cost Scotland £1.9m a year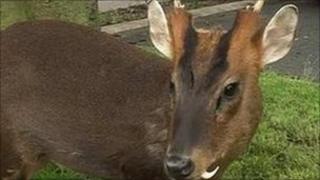 The cost of managing an invasive species of deer if it were to arrive in Scotland could cost up to £1.9m a year, according to a new report.
Muntjac deer are branded "Asbo bambi" by critics in England where they roam free and are blamed for causing road accidents and damage to crops.
Scottish Natural Heritage (SNH) commissioned a report on how to deal with deer spreading to Scotland.
Managing muntjac like other deer was reported to run from £457,821 to £1.9m.
The report said eradicating an outbreak of muntjac could range from £3,683 to £60,625 per outbreak for populations of up to 200 animals.
Among the researchers' conclusions was for monitoring of the deer and killing them as soon as possible.
Muntjac could arrive by spreading through north-west of England to the Solway Firth, or could head for patches favourable habitat around Kielder, Berwick-upon-Tweed and Dunbar, said the report.
Researchers asked Scottish councils for details on any zoo licences issued to keep the deer.
Only Fife Council said it had done so for animals at Fife Animal Park and at the Scottish Deer Centre.
The Highland Wildlife Park, at Kincraig; Camperdown Wildlife Centre, in Dundee; Auchingarrich Wildlife Centre, in Perthshire; Heads of Ayr Farm Park in South Ayrshire, and Jedforest Deer and Forest Park, near Jedburgh, all confirmed to having no muntjac in their collections.