Western Isles produces its first legal whisky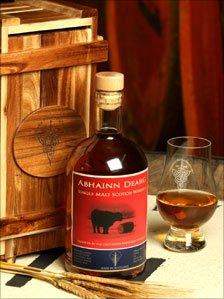 The first single malt whisky to be legally distilled on the Western Isles has been made available in a limited run of 2,011 bottles.
The three-year-old whisky was made in a former illicit still at Abhainn Dearg Distillery in Uig, on Lewis.
Mark Tayburn got permission to use the still under a licence granted by the HM Revenue and Customs in November 2008.
Leftover malt barley mash from the whisky making process is fed to the distillery's Highland cow herd.
The cows' dung is to be used as fertiliser for local barley crops which could eventually supply the distillery, rather than buying in grain from elsewhere.
The single malt has been launched to coincide with the start of Gaelic's Royal National Mod in Stornoway.
Mr Tayburn said: "We are delighted to launch this special whisky and finally reclaim the heritage of whisky making in the Isle of Lewis which stretches back hundreds of years."
Western Isles SNP MSP, Alasdair Allan, said the new whisky could be good for the islands' economy.
"Perhaps one of the more interesting constituency cases I have ever had was when I had to persuade HM Revenues and Customs to overcome their suspicion about one of Mr Tayburn's stills which had a colourful past under previous ownership," he said.
"In fact, it now provides his distillery with something unique in Scotland - legal whisky made in a formerly illicit still."
Whisky was illicitly produced across the Highlands and Islands until distilling was legalised by the Excise Act of 1823.
In 2006, whisky distillers at Glenlivet recreated history by legally using a former illicit still and the same methods as illicit distillers once employed in Banffshire.
On the Western Isles, there are plans for more whisky production.
Last month, plans for a new distillery on the Western Isles were lodged with the islands' council, Comhairle nan Eilean Siar.
North Uist-based Isle of Harris Distillers Ltd want to build on a site at Tarbert on Harris.
The proposal includes a distillery, warehouse, yard and car parking on an area of reclaimed land.
The distillers said they intended to produce a single malt of "outstanding quality".
About 90,000 litres of whisky could be produced a year, using water drawn from two disused reservoirs on the East Tarbert burn.
The distillers said they hoped to build close ties with crofters and encourage them to grow suitable strains of barley.
If the plans get the go-ahead, the company wants to start building work by the end of next year and begin production in 2015.
Related Internet Links
The BBC is not responsible for the content of external sites.