Interim contract awarded for Scottish coastguard tugs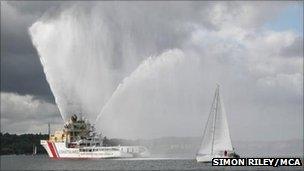 Two tugs are to be brought back into the service of the Maritime and Coastguard Agency (MCA) under a newly-awarded three-month contract.
The Anglian Monarch will operate from the Western Isles and Anglian Sovereign will cover the Northern Isles.
The UK government withdrew the tugs to save costs and said the industry should take responsibility for salvage.
However, it committed to a one-off payment of up to £3m to cover the cost of tugs for Scotland for three months.
The vessels are owned by Invergordon-based JP Knight, which provided the coastguard with tugs until the contract ended last month.
The Anglian Sovereign was expected to reach Shetland on Saturday morning and the Anglian Monarch should be in Stornoway by Sunday night.
Over the next three months the Scotland Office will seek to find a longer term arrangement for emergency towing vessel (ETV) cover.
Scottish Secretary Michael Moore said: "Ministers are working hard to try and broker a deal for 2012 and beyond and I will chair a meeting of the ETV group in Edinburgh on Monday to take this work forward urgently.
"I am confident we can work towards a long-term solution for the ETVs and we will be working with a wide range of stakeholders, including the oil and gas industry, towards that goal."
Rural Affairs and Environment Secrtary Richard Lochhead said: "I am pleased, and maritime users will be relieved, that Scotland's emergency tugs are now back in service.
"This was the right decision for the UK government to make to ensure there was not a dangerous gap left in our rescue services.
"It is vitally important a long-term solution is now found."
Western Isles SNP MSP Angus MacNeil welcomed the announcement.
But he added: "Why has it taken the UK government a fortnight to put this interim contract in place, this is something that should have been arranged before the contract ended on the 30th of September.
"I would hope that the UK government are now working hard to ensure that there will be future cover in the Western and Northern Isles after this interim contract comes to an end."
The convener of Orkney Islands Council, Stephen Hagan, confirmed he would be taking part in the multi-agency discussions on the long-term future of emergency tug cover.
He said: "As a council we will be keeping up the pressure to maintain tug cover for the Highlands and Islands, to protect our coastline, our communities and the seas around us.
"It is vital that these powerful tugs are stationed in the Northern and Western Isles on a long-term basis."
Related Internet Links
The BBC is not responsible for the content of external sites.