Work to improve a new stretch of A9 at Moy begins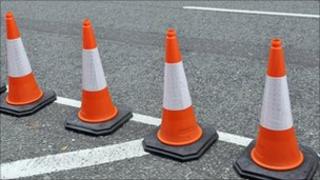 Work to make improvements to an overtaking lane on the A9 which closed shortly after it was opened has started.
The lane at Moy, near Inverness, was closed in November 2010 following concerns about traffic crossing to a junction near the end of the lane.
The northbound lane stretches to less than a mile and cost £2.8m to build.
Cones have also been placed on a newly opened dual carriageway at Crubenmore so new signage can be completed.
Transport Scotland said the work to alter the road layout and improve the safety of the overtaking lane at Moy started on 6 October.
A spokeswoman said: "Work includes the movement of the permanent signs to their new positions, carrying out safety barrier work at the railway bridge to the south of the scheme, installing new road markings, then carrying out repairs to the joints on the railway bridge.
"It is anticipated that the work should be completed by mid-November, weather permitting."
She added: "Transport Scotland will use CCTV monitoring to gauge the effectiveness of the new layout and will provide regular updates to the community council."
The new dual carriageway at Crubenmore south of Newtonmore in Glen Truim extends to 1.9 miles (3.2km).
Traffic cones have been placed on part of the southbound carriageway so work to put in new signs could be completed.