Biomass in Wester Ross and Caithness to be explored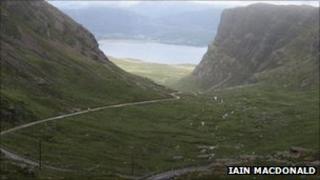 Community groups in Wester Ross and Caithness are to explore the potential of using biomass plants to heat homes.
Charity Highland Birchwoods will help the three make sure they have sufficient wood to supply the schemes and estimate the costs involved.
Applecross Community Company, Pentland Energy and Ullapool Powerdown have funding in place for the research.
Highland Birchwoods will help the groups progress towards decisions on whether to build the plants.
Each biomass boiler scheme could heat up to 50 properties in areas where there is no mains gas supply.
Timber from trees felled in nearby woodlands and forests would be dried and then turned into wood chips to fuel the boilers.
Applecross Community Company has already surveyed the availability of suitable wood on the peninsula in Wester Ross.
Highland Birchwoods would help the group through the process towards installing a biomass plant.
The village of Applecross is in one of the remotest parts of the Highlands.
It has about 230 residents and one of the two roads to it, called Bealach na Ba, rises to about 626m (2,053ft) over about four miles (6.4km).
Pentland Energy has been involved in fuel poverty surveys and also efforts to better insulate homes in Caithness.
Ullapool Powerdown has sought to reduce carbon emissions around Ullapool on the Wester Ross coast.
Create jobs
Set up in 1992, Highland Birchwoods has run four international wood fuel projects so far - Northern WoodHeat, North Sea Bioenergy, Pelletime and Make It Be which is about to come to an end.
The projects have seen ideas and technology brought to Scotland through working with organisations in Finland, Sweden, Iceland, Holland, Germany, Belgium, Italy, Slovenia, and Austria.
Highland Birchwoods hopes to start the projects with the three community groups early next year, building on work done as part of the Make It Be scheme.
The charity said biomass could prove crucial to communities trying to tackle fuel poverty, reduce CO2 emissions and create jobs.
A spokesman said: "Highland Birchwoods aim is to work with the communities and contribute to the success of their projects, with our long term goal of using them to create a blueprint for other communities throughout the Highlands and the UK."