£75.5m aqueduct among Inverness West Link options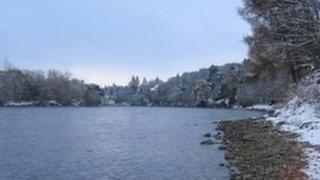 An aqueduct costing an estimated £75.5m and a bridge that could cost £67.8m to build are among eight options for a proposed new trunk road in Inverness.
The West Link aims to take traffic from the city's Southern Distributor Road to the A82, avoiding the city centre.
Highland Council has estimated the costs of the eight possible routes for a second phase of consultation on the trunk road.
The road would have to cross the River Ness and the Caledonian Canal.
One option involves building an aqueduct to carry a stretch of the historic canal with road traffic going underneath the new structure.
Another suggestion would see a high level bridge spanning both the river and canal. The bridge would be 35m (114ft) above the ground at its highest point.
Highland Council has rated the aqueduct and high level bridge options as the most environmentally damaging.
The other options involve new swing bridges on the canal and the local authority has put the cost of those suggestions at between £23m and £32m.
Highland Council said it has money in its capital budget that could go towards the cost of the less expensive proposals for the road.
Some residents campaigned last year to prevent the new road crossing public parks, including Whin Park and its miniature railway.