Inverness provost in new bypass call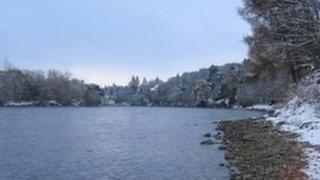 The Inverness provost has said it is essential to divert traffic from city centre roads that were built for 19th Century transport.
Speaking at the launch of consultation on options for a new bypass, Jimmy Gray said modern traffic was using streets designed for horses and carts.
The West Link aims to take traffic from the city's Southern Distributor Road to the A82, avoiding the city centre.
Eight options proposed range in cost from £23m to £75.5m.
Mr Gray said it was vital that a way was found to divert 21st Century traffic away from the city centre's streets.
Highland Council has estimated the costs and plotted the possible routes for a second phase of consultation on the trunk road.
The road would have to cross the River Ness and the Caledonian Canal.
One option involves building an aqueduct to carry a stretch of the historic canal with road traffic going underneath the new structure.
Another suggestion would see a high-level bridge spanning both the river and canal. The bridge would be 35m (114ft) above the ground at its highest point.
Swing bridges
Highland Council has rated the aqueduct and high-level bridge options as the most environmentally damaging.
The other options involve new swing bridges on the canal and the local authority has put the cost of those suggestions at between £23m and £32m.
John Laing, chairman of the council's technical services committee, hinted that the more expensive options would be beyond the local authority's budget.
He said: "We have about £25m in our capital programme so that's the kind of figure we are working with.
"Unless we can find significantly more money to look at high level bridges, well that kind of speaks for itself."
Mr Laing said regular meetings had been held with the Scottish government over the past four years about funding the West Link.
He added: "The government has said it is our project to finance."