New Raigmore Hospital signs simpler, NHS Highland says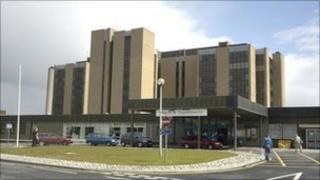 New signage at the biggest hospital in the Highlands will be easier to interpret, NHS Highland has said.
Changes were deemed necessary at Raigmore in Inverness after some visitors and patients said they were getting lost because of poor signs.
Adding Gaelic, in line with the health board's Gaelic Language Plan, was looked at but has not been included.
Braille and speaking signs to help people with impaired vision were also considered but not included.
NHS Highland consulted patients groups such as Autism Rights Group Highland, Sight Action, Highland Users Group, the hospital's patients council and also staff.
Donna Smith, divisional general manager for patient services, said the new signage aimed to be clear and accessible.
She said: "During the planning and design stage of the project, we considered Gaelic, in line with our Gaelic Language Plan, along with Braille and speaking signs, and considered the views of staff and patient groups.
"The focus was accessibility and simplicity.
"It is recognised that the new signage will not meet the needs of 100% of our population, for example the signs do not include Braille or speak for the visually impaired."
Donald MacNeill, chief executive of Gaelic language group Comunn na Gaidhlig, has criticised the decision not to include Gaelic on the signs.
He said it was disappointing NHS Highland had not installed bilingual signage in line with its language plan which he said promotes the use of Gaelic in any new developments, such as new signs.