Inverness West Link 'would not affect' common good fund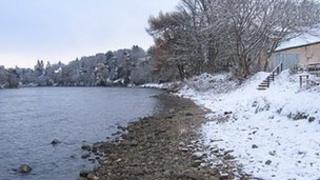 A senior councillor has said he has been given assurances that a planned new road for Inverness would not affect the city's common good fund.
BBC research of title deeds suggested that some areas involved belong to the fund and use of the land could increase costs of the West Link.
John Laing said debate about the Whin and Bught park areas was an "unfortunate distraction".
Eight possible routes for the West Link have gone out for consultation.
The road aims to take traffic from the city's Southern Distributor Road to the A82, avoiding the city centre.
It would have to cross both the River Ness and Caledonian Canal.
Earlier this week, community land rights campaigner Andy Wightman said the common good fund would be due compensation if the title deeds showed that land on the planned route was among its list of assets.
Money from the fund is used for community projects.
The SNP group on Highland Council has said all questions on a planned new bypass had to be "clearly" answered by the ruling administration.
'Best advice'
Mr Laing, chairman of the transportation, environmental and community services committee, said the new road was important to easing traffic congestion.
He told BBC Radio Scotland: "I have asked for and have been given a categorical assurance that on the face of the titles neither Whin Park or Bught Park are held on the Inverness Common Good account.
"The land is owned by Highland Council."
Mr Laing said the local authority was following the best advice on a project that had been developed over 10 years.
He said all landowners involved were being dealt with in the proper manner.
Mr Laing added: "It is an unfortunate distraction diverting attention from the most important issue here and that is finding the best solution for crossing the river and the canal for the benefit of the people of Inverness and the Highlands."