Highlands and Islands fire service funds more training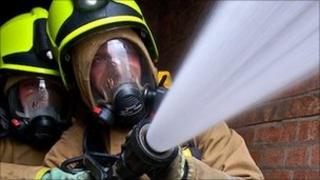 A fire service has "realigned budgets" to allow it to spend more money on improved training for its crews.
Highlands and Islands Fire and Rescue Service (HIFRS) has suspended its capital building programme as part of the move.
It also said rural communities would continue to struggle to maintain retained crews because of a lack of people able to do the job.
HIFRS has previously warned of recruitment issues in some areas.
The service has faced criticism about the level of training its workforce has.
Local newspaper the Highland News reported that less than 10% of HIFRS's 1,400 staff were properly trained.
The paper claimed some firefighters were not even qualified to climb a ladder to rescue a cat.
HIFRS said it was constantly reviewing the way it operated to ensure it continued to deliver a high quality, safe and cost-effective service to our communities.
In a statement, it said: "HIFRS is fully aware of the level of training that we currently provide for our firefighters and has developed plans to enhance this in the near future.
"In order to deliver this training the service has realigned budgets, including the suspension of the capital build programme, and assigned additional personnel to provide more training."
HIFRS said for some communities falling and ageing populations and modern work pressures made it difficult to recruit retained firefighters.
In August, the BBC News Scotland website reported on recruitment problems on Muck and also Flotta in Orkney and Foula in Shetland.
Chief Fire Officer Trevor Johnson said the service was having to seriously consider the future.
He said: "The significant advances the service has achieved over the last year should be recognised and the dedication of the staff who achieved these improvements commended.
"Whilst we continue to plan for the future move to one fire and rescue service for Scotland we must not lose sight of the need to provide an effective and safe service for the present.
"Having considered our position, the board and the service have a key focus on firefighter safety and we will apply all appropriate resources to ensure this is maximised."