Bridge for planned Inverness road 'would be iconic'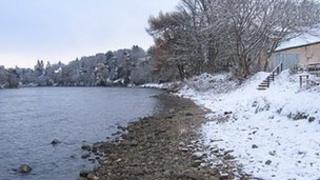 A bridge to carry a new road over the River Ness and Caledonian Canal at Inverness would be an "iconic" design, councillors have been told.
Options for the West Link have been the subject of public consultation.
The high level bridge option is among the most expensive of eight suggestions for the road at an estimated £67.8m.
Minutes from a meeting of Highland Council's road working group shows councillors were told the bridge shown in plans was "simply for illustration".
But officers also told last month's meeting that the style shown in plans was the most economical version.
The minutes go on to report: "However, given the scale of the bridge, it was likely that a more "iconic" design would be necessary."
The high level bridge would be 35m (114ft) above the ground at its highest point.
The minutes of Inverness Trunk Link Road (West Link) Working Group meetings held on 17 November and also on 10 November are on the agenda for Thursday's meeting of the full council.
The minutes also carry a suggestion that because the new road would open up new sites for development it might be possible to seek contributions from house building companies towards the cost of the route.
The West Link aims to take traffic from the city's Southern Distributor Road to the A82, avoiding the city centre.
An aqueduct costing an estimated £75.5m is also among the eight options for the proposed new road.
The other options involve new swing bridges on the canal and the local authority has put the cost of those suggestions at between £23m and £32m.
Highland Council said it has money in its capital budget that could go towards the cost of the less expensive proposals for the road.