Nevis Range ski resort to open after storm repairs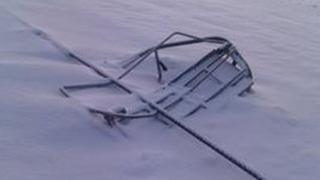 A ski resort aims to open a weekend later than planned after winds that reached gusts of 130mph caused extensive damage to its equipment.
The wind speed was recorded at the summit of Aonach Mor in Lochaber during stormy weather last week.
Almost every lift and chair at nearby Nevis Range were blown off cables, with 15 quad chairs damaged beyond repair.
However, the centre, along with Scotland's other four resorts, plans to be open for snow sports this weekend.
Nevis Range said its engineering staff had been working "flat out" to have chairs and lifts repaired or replaced.
The centre had been gearing up to open last weekend.
Staff at Glencoe Mountain have also had to make repairs to storm damaged equipment.
Wintry weather has been forecast for the next few days.
The Met Office has issued a yellow "be aware" weather warning for the UK for Saturday through to Monday, following periods of bad weather this week.
On Monday, it saw warships of Russia's Baltic Fleet seek shelter off the Moray Firth from stormy conditions.
Two Lochs Radio in Gairloch, Wester Ross, said the Met Office had confirmed its recording of a record low depression on Tuesday afternoon as storm-force winds moved from the Uists towards Wick.
The radio station's weather equipment recorded an overall low of 943.4mBar.
Two Lochs said Steve Jebson, library information officer for the Met Office in Exeter, confirmed that it was the lowest pressure recorded anywhere in the UK so far this century.