Archive body starts debate on smiling for photographs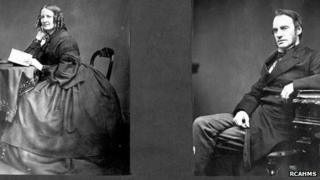 Reasons why it became acceptable for people to smile when having their pictures taken is being explored by a national organisation.
The Royal Commission on the Ancient and Historical Monuments of Scotland holds millions of images, many dating from the 1800s.
RCAHMS staff have used Twitter to invite discussion on when and why early cheer-free poses became unfashionable.
Reasons suggested include an end to achingly long waits for exposures.
To help people remain still for lengthy periods in the early years of photography, RCAHMS said metal clamps were used to stop heads from moving, or people were given opium-based pain relief drug laudanum to keep them subdued.
The commission said one early practitioner advertised that they could provide gas to permit photography "without pain".
A desire to move away from "repressed" Victorian era attitudes and better technology may also have played a part in the demise of serious looking poses.
A spokesman at RCAHMS said: "We are handling, using and researching archive images every day and the question came up 'when did people start smiling in photographs?'.
"We obviously have an idea as to why a mixture of technology and social pressure meant that it was very rare to see smiling in early photographs - and the evidence from our own collections seems to suggest that smiling in photographs is a largely 20th century phenomenon.
"But we wanted to put a call out to those using Twitter to see what every one else might think."
Twitter responses have also suggested that, over the years, people became more familiar with the new invention.
The spokesman said: "It was also suggested the photographers' jokes got better.
"From looking at our archive imagery, the shift does seem to come in the Edwardian era onwards.
"The improvement of camera technology coincides with the massive social change from the Victorian to the Edwardian."
'Automatic reaction'
RCAHM's collections of historical material include photographs from the 1850s, some the earliest images ever taken of Scotland.
Historic photographic collections feature pictures taken by John Forbes White, William Donaldson Clerk, Harry Bedford Lemere, Erskine Beveridge and James Bannatyne Mackenzie during the 19th and 20th centuries.
Formal studio portraits in RCAHMS archives include one of Margaret and Andrew Anderson, from Glasgow, taken in the 1880s.
The spokesman said: "Many early portraits were considered unflattering and disagreeable, and one of the skills of the Victorian photographer was to ensure that people were posed in such a way that the final image was acceptable.
"There were messages to be conveyed through these poses - women were often positioned to look thoughtful, leaning on a table, with a book or chair while for men, the perception of authority and dignity was crucial."
Later photographs include an image of three relaxed and smiling children photographed at Lennoxlove House in East Lothian in the 1900s.
Modern photographers suggest that smiling for cameras is now almost "hard-wired" into people's behaviour - even from a young age.
Leading north of Scotland Press photographer Peter Jolly added: "Most people when you point a camera at them their automatic reaction is to smile and I often have to tell them not to smile as the photograph is for a story which is of a serious nature.
"This has happened even when people are discussing the death of a loved one."
Smile mode
Badenoch and Strathspey-based photographer Andrew Smith added: "I think people instinctively smile for photographs because the smile is a kind of mask.
"Perhaps people feel that if we look sad or grumpy or angry, or simply don't smile, then we reveal something of our inner selves, and we don't want to do that in a photograph that will likely be seen by strangers.
"In daily life we naturally greet strangers with a smile, and a photograph is our introduction to a stranger.
"During the recent storms I've photographed several people whose property has been destroyed or severely damaged, and all of them went straight in to smile mode for the camera.
"One lady had moved from South Africa after being robbed at gunpoint, only to have her new home destroyed by the Scottish weather.
"She was left homeless and many of her possessions were destroyed. It took quite some time to get a photograph in which she didn't have a beaming smile."