Memorial service held in Lewis for Liam Aitchison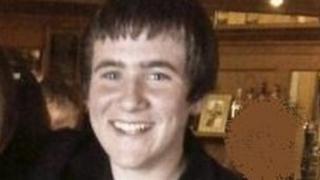 A memorial service has been held for Liam Aitchison, who is believed to be the first murder victim in the Western Isles for more than 40 years.
The 16-year-old was found dead in a derelict building in the Steinish area of Lewis last month.
Two men have appeared in court charged with Liam's murder.
Family and friends gathered at Stornoway's Roman Catholic Church in memory of the young man, who was originally from Uist.
On the day of the memorial, Jonathan Mackinnon, 21, from Stornoway, and Stefan Miller, 20, from Carloway, made a second appearance in private at Inverness Sheriff Court.
Both were accused of murdering Liam at Steinish in November.
Mr Mackinnon and Mr Miller were fully committed for trial and remanded in custody.