Tonnes of fallen rock block Lochcarron to Kyle road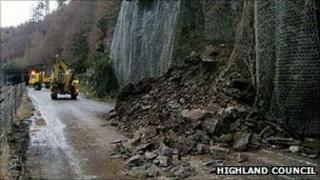 A road in the Highlands is likely to remain shut until Saturday following a landslide on Thursday morning, according to Highland Council.
More than 100 tonnes of rock came down on a section of the A890 Lochcarron to Kyle road.
Contractors have been asked to help council staff to manage the removal of other rock loosened in the slide.
Highland Council said a nearby railway line was unaffected and "every effort" was being made to reopen the road.
A spokesman said: "The safety of the public is paramount.
"The road has been closed since the landslide and will remain closed on Friday and most likely Saturday.
"Every effort will be made to reopen the road by Christmas Day but no guarantees can be given at this time as there is a lot of rock to remove and new netting to be secured on the hillside."