New technology plan for Highlands and Islands airports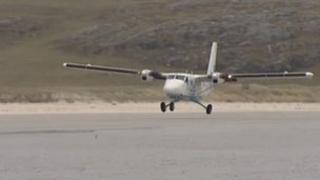 New technology could be introduced to airports in the Highlands and Islands to aid landings in bad weather.
Highlands and Islands Airports Limited (Hial) plans to install the EGNOS satellite navigation system which works with GPS-style equipment on planes.
Barra's beach landing strip along with airports at Benbecula and Campbeltown could get the system this year.
It would then be rolled out across all Hial sites, including those on the Northern Isles.
Inverness Airport, which already has a £3.6m radar service, would also get the system.
Scottish airline Loganair said its smaller aircraft have the equipment needed to work with the new technology.
The company said Hial's plans were welcomed.
A spokesman said: "A number of its smaller aircraft have recently been equipped with new satellite navigation equipment and it will commence trialling the new systems in the near future before reviewing whether to extend the equipment fitting programme to its full fleet of aircraft."