Glasgow sees rise in comic book creators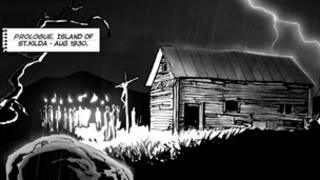 The last three years have been marked by a "massive groundswell" in comic book creators in Glasgow, according to a co-organiser of the city's comic convention.
Last year John Farman and Sha Nazir organised the first Glasgow Comic Con in 15 years.
Mr Farman is also a co-founder of BlackHearted Press, which has produced five comics, a booklet and staged nine events in Glasgow in the last 12 months.
Its new comics include issue one of School of the Damned.
Mr Farman believes digital technology has worked in the favour of smaller publishers, writers and artists.
He said: "I think right now is an incredibly interesting time to be working in comics.
"On one side we have the digital aspect which I think will initially contribute to smaller comic book sales as fans can download on certain sites for free.
"I've had this conversation with quite a few fans recently and while they download and sift through issues a lot of them have said they will still buy the books they really like.
"So I see the digital aspect as a way for fans to be more selective about which comics they buy."
'Get cracking'
Through his involvement in comic marts Mr Farman said he had seen the comic book scene experience marked changes.
He said: "When we did our first comic mart it was 95% retailers and dealers with very little of local comic book creators. However, over the past three years we have seen a massive groundswell in comic book creators making the decision to self-publish.
"Around half of our tables for both the comic con and the marts are now booked by comic creators, mainly from the Glasgow area.
"I would say there has never been a better time to pick up a pen or pencil and get cracking."
As well as BlackHearted Press, Mr Farman said he was aware of at least seven other independent comic companies in the Glasgow area.
Meanwhile, preparations are being made for this year's Glasgow Comic Con.
Guests who appeared at the 2011 convention included Alan Grant, one of the UK's longest established and most successful writers and a former assistant editor at 2000AD.
Wanted and Kick-Ass writer Mark Millar, who hails from Coatbridge, and British graphic novel artist David Lloyd, who illustrated V for Vendetta comic strips, also appeared.
Mr Farman said: "This year we hope to expand into a two-day event with more genuine A list guests to keep both avid fan and movie fan happy.
"Our motto in the last five years hasn't changed: give people a stage to show and sell their work and an environment for them to meet editors, professionals and network.
"We live in hard but interesting times. But the one thing I think we've learned in the last five years is that if you provide that platform for creators then they will do what comes naturally - create."