Sepa to consult on waste for Dounreay store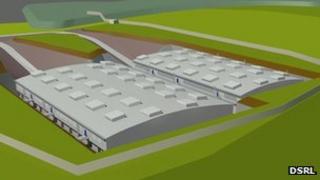 The Scottish Environment Protection Agency is to hold a public consultation on plans to keep solid low-level radioactive waste at a new dump.
Sepa is expected to start the consultation in March, according to Dounreay Site Restoration Limited.
DSRL had applied to Sepa in November to store the type of waste at the new store at the Dounreay nuclear power site in Caithness.
Sepa said the waste already buried at Dounreay could be moved to the store.
Work has started on constructing the store for up to 240,000 tonnes of low-level radioactive waste.
The Nuclear Decommissioning Authority (NDA) is spending £100m building the facility and dealing with the waste.
Graham Construction will build the first two of up to six vaults. Each vault will be the size of a football pitch and 20m (65ft) deep.
The store will later be covered with earth and landscaped.
The rubbish includes paper, rags, tools, glass, concrete and clothing contaminated by radioactivity.