Phased reopening planned for A890 in Wester Ross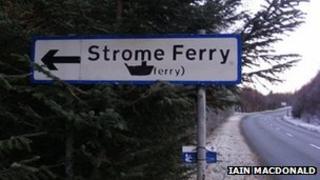 A stretch of Highland road which was shut following a landslide on 22 December could open during hours of daylight from 17 February.
Highland Council said it hoped the A890 in Wester Ross could reopen fully from 17 March.
A contractor has been appointed to carry out work to make sure a hillside next to the road is safe.
The local authority will hold public meetings in Achmore and Lochcarron to outline the phased reopening.
The daylight opening has been suggested as a safe way to get traffic moving on the road again until work on the hillside was completed.
A long-term solution to problems affecting the A890 could cost between £40-70m.
They include a road bridge across the Strome Narrows, or constructing a new bypass to replace the existing one which has been affected by a series of landslides in recent years.
Extending an existing avalanche shelter on the A890 has also been suggested.
Ross, Skye and Lochaber Liberal Democrat MP, Charles Kennedy, has urged the Scottish government to help the council in finding a permanent solution.
He said: "I'm glad that this long disruption is reaching an end, but people on the west coast need a sustainable solution for this lifeline link.
"People's jobs and businesses rely on that route, so we must find a way to make it safe and usable all year round."