Gaelic dialects 'dying out', Edinburgh academic warns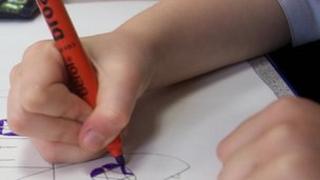 All local dialects of Gaelic will die out except two, according to research by a University of Edinburgh academic.
Dr Will Lamb suggests only the Gaelic of Lewis and South Uist will be strong enough to survive in the future.
He said one of the reasons was that these dialects were dominant in Gaelic medium education.
Dr Lamb said another form of the language - influenced by a mix of dialects and which he dubbed mid-Minch Gaelic - was also emerging.
According to his research, in Gaelic medium units throughout Scotland - including the islands - 21% of teachers use a non-dialectal Gaelic.
He found 25% of the teachers spoke the Lewis dialect and 17.5% spoke Gaelic from South Uist.
But only 9% of Scotland's Gaelic medium teachers spoke Skye Gaelic, 8% North Uist and 7% Barra.
Dr Lamb told BBC Alba: "Without a change of what is happening in these communities most of the surviving Gaelic dialects will be gone in a few generations.
"I think it is important to have this debate right now about how we keep the language strong in its native communities."
John MacFarlane, a member of Taynuilt Gaelic Choir in Argyll, believes he is the last person in his area to speak the local dialect.
He said: "I feel somewhat of a dinosaur actually.
"When I was young the place was full of Gaelic, but it has altered entirely in my lifetime.
"I don't think there is anybody who is learning my particular dialect."