No confidence vote in Highland fire bosses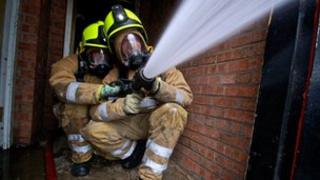 Firefighters in the Highlands have passed a vote of no confidence in senior management.
Members of the Fire Brigades Union claim bosses have failed to act over failings in training and development, risking firefighters' lives.
Meanwhile, members of the Highlands and islands Fire Board have agreed to hold talks next week.
They will consider how to assess the sustainability of rural fire stations.
Chief fire officer Trevor Johnson said four stations had already been temporarily shut or "taken off the run", due to concerns over safety.
But he insisted he was not looking at permanent closures.
Mr Johnson had previously asked for permission to "suspend" operations at some stations because of problems with inadequate training and lack of resources.
The union argued that one man should not be allowed to take those decisions.