Beluga whale sightings in SNH marine renewables report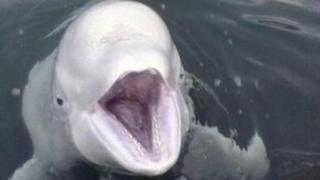 Beluga whales are among rare species spotted at, or near to, proposed Scottish sites for marine renewable energy projects, a report says.
Also known as white whales and sea canaries, beluga whales live in Arctic and sub-Arctic waters.
Sightings of the species were made off Caithness in 2005 and 2007, according to information gathered for the Scottish Natural Heritage (SNH) report.
The review looked at the Pentland Firth and the sea around Orkney.
The study, called "Abundance and behaviour of cetaceans and basking sharks in the Pentland Firth and Orkney Waters", was prompted by the opening up of new sites for marine renewable energy.
Among the findings was that some proposed locations for wave and tidal energy development overlapped with important areas for cetaceans.
The report's authors - Hebog Environmental Limited and Sea Watch Foundation - gathered sightings records from wildlife databases, council rangers, ferry crews and developer Aquamarine Power.
In their findings, the authors said: "Nineteen cetacean species have been recorded in the Pentland Firth and Orkney Waters since 1980, 17 of these as live sightings, making it one of the richest areas in the UK."
The report said six species occurred regularly. These were harbour porpoise, minke whale, white-beaked dolphin, Risso's dolphin, killer whale and bottlenose dolphin.
Basking sharks along with short-beaked common dolphin, Atlantic white-sided dolphin, long-finned pilot whale and sperm whale were described as casual visitors.
'Potential show-stopper'
Two sightings of beluga were made near Berriedale, on the east Caithness coast. Three whales in total were recorded.
The whales are listed as "near-threatened" on the International Union for Conservation of Nature's red list.
They were nicknamed sea canaries because of the distinctive sounds they make, including chirps, squeaks and clicks.
Other rare and threatened species have been recorded around Orkney.
They included humpback whales at various locations and striped dolphins off Shapinsay and in the Sound of Hoxa.
A pod of up to 150 false killer whales was seen about east of Orkney in July 1981. They are more common in tropical, subtropical and warm temperate seas.
Killer whales, meanwhile, were frequently seen off Dunnet Head and Duncansby Head in Caithness and off Orkney.
The review said it was a small population of about 30 animals linked to a community of killer whales that followed Icelandic summer-spawning herring.
Last year, the risks to whales and dolphins from tidal turbines was described in a university document as a "potential show-stopper" for marine energy plans.
The warning was contained in information about a proposed study examining possible sites where animals injured by turbines could end up stranding.
The University of the Highlands and Islands (UHI) offered a postgraduate studentship in the research in July last year.
UHI said how the animals would behave around turbines was unknown.
The development of marine renewables in Scotland is still in the early stages with prototype devices being built and tested.
A report published in 2010 on the potential benefits of harnessing wave and tidal power suggested £2.5bn could be spent in Scotland and 5,300 jobs created by 2020.
Industry forum Scottish Renewables and development agency Scottish Enterprise had commissioned the study.