Musician tipped £50 by Rod Stewart features on Hollyoaks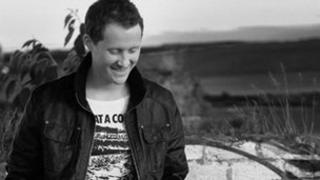 A song by a Highlands musician who was once tipped £50 by Rod Stewart has been played on Channel 4's soap Hollyoaks.
Michael Maclennan, 29, from Grantown-on-Spey, studied at London's Royal College of Music and now lives in Dublin.
Keep A Light On, a track from his debut album Wolves, featured on a recent episode of Hollyoaks.
After leaving college, Maclennan played gigs in London. Following one performance he was praised by Stewart.
The legendary singer also left the Highlands singer-songwriter with £50.
Wolves is a family affair.
Maclennan's younger brother Andrew and sister Catherine Ward also feature on tracks along with drummer Sam McLeod, also from Grantown-on-Spey, and bass player Dougie Edwards, from nearby Carrbridge.
Another Grantown-on-Spey resident, Stuart Mackellar, designed the album's artwork and its pictures were taken by Maclennan's brother-in-law Gerry Ward.
'Emerging talent'
Maclennan said: "I am very proud of the album and the early reviews have been really positive, which is fantastic.
"There has been interest from television and film producers as well, and the new single Keep a Light On was played on Hollyoaks a couple of weeks ago."
Meanwhile, new bands and musicians have been offered a slot on the main stage of this summer's Hebridean Celtic Festival in Stornoway, in Lewis.
The opportunity has been offered in the form of a competition to 18-25 year olds.
HebCelt takes place from 11-14 July and will feature performances by The Waterboys, The Proclaimers and Kassidy.
Festival director Caroline MacLennan said: "The festival supports emerging talent from throughout the Celtic nations.
"However, we recognise that it can be challenging for those starting out to break through, especially at a major event like the festival.
"We want to encourage applicants to think creatively about how best to present their work to get that start."