Scottish independence: Energy firm warning on referendum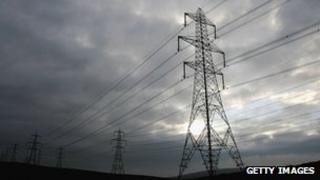 Scotland's second biggest company has warned the independence referendum will increase the risk it attaches to investment projects.
Energy firm SSE said there was also an increased likelihood of regulatory and legislative change to energy supply.
The Perth-based supplier said it did not have a view on whether Scotland should be independent, or not.
But it did ask that Scotland should remain part of a single UK energy market.
SSE made the comments in a response to consultations by the Scottish and UK governments.
Scottish Energy Minister Fergus Ewing has welcomed the company's submission and said maintaining a single energy market had been Scottish government policy for some time.
UK government Scottish Secretary Michael Moore said SSE's warning of uncertainty ahead of a referendum underlined the need for it to be held sooner, rather than later.
Johann Lamont, Scottish Labour leader, said the Scottish government should listen to the views of "important businesses" such as SSE.
In the response, SSE said: "Making investment decisions is about striking the right balance between risk and reward.
"The additional risk of regulatory and legislative change does not mean that SSE will not invest in projects in Scotland while its future is being determined.
"The development of SSE's existing projects in Scotland will continue as planned.
"It does mean, however, that the additional uncertainty represents increased risk, of which SSE will have no alternative but to take account in making final investment decisions on those projects while that additional uncertainty remains."
SSE's future plans include upgrading the Beauly to Denny power line, which is expected to be completed at an estimated cost of £600m.
It has also been working to get the £140m Glendoe hydro scheme at Fort Augustus back on stream.
Electricity generation was halted at the plant above Loch Ness shortly after it opened in 2009 following a rockfall in a tunnel. SSE hopes to resume generation this year.
SSE's portfolio also includes about 10 million customer accounts for electricity, gas and other home services and it owns thousands of miles of power lines delivering supplies to 3.5 million properties.
It also has a 50% share of Scotia Gas Networks, which has about 45,000 miles (73,000km) of pipelines delivering gas to about 5.7 million properties.
'Increased integration'
Mr Ewing said he welcomed SSE's commitment to Scotland.
He added: "We agree with SSE that post-independence we should maintain a single Great Britain energy market, within an increasingly unified single EU market - that has been the policy position of the Scottish government for some time.
"Indeed, increased integration of energy markets across the UK and Ireland was agreed at a meeting of the British-Irish Council last summer."
Mr Ewing blamed policy and regulation at UK level for harming SSE's previous investment plans, including the abandonment of the Peterhead carbon capture project in 2007.
But Michael Moore said SSE's submission highlighted the uncertainty caused by the referendum
"This is a crucial point from one of Scotland's biggest businesses.
"SSE's submission adds considerable weight to the case for having the referendum sooner rather than later."
'National crisis'
Ms Lamont said the Scottish government should bring forward the date of the referendum planned for 2014.
She said: "This significant intervention demonstrates the growing uncertainty the delay over the referendum is creating.
"If this is to be a genuine consultation, the Scottish government must listen to the views of important businesses like Scottish and Southern and bring certainty to Scotland's future.
"With a national crisis in unemployment in Scotland, we cannot afford for business to shelve or delay plans to wait to see if we are remaining in the United Kingdom."
Scottish Liberal Democrat leader Willie Rennie said: "I am sure the SNP will hysterically dismiss this intervention but that would be a mistake as SSE is a substantial company with thousands of employees.
"The message is clear, delaying the referendum could cost jobs."