Summer Isles Foods to hold talks on Achiltibuie plant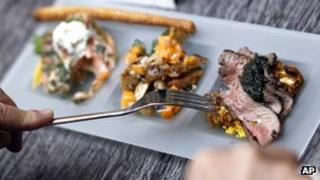 A firm relocating its business almost 80 miles (128km) has said it will talk to the community it is leaving about the future of its factory there.
Summer Isles Foods is transferring work from Achiltibuie to Alness.
Boss Phil Morgan told BBC Alba that talks will be held locally on future uses of the Achiltibuie factory.
The loss of jobs to the community along with the firm being allowed to go ahead with the purchase of the publicly-owned factory it is closing has caused a row.
Most of Summer Isles Foods' 12 workers are expected to relocate from the west coast to the Cromarty Firth.
The firm produces smoked fish and meat at a plant it leased from enterprise development agency Highlands and Islands Enterprise (HIE).
HIE agreed to sell the factory to Summer Isles Foods in 2010, but sought to delay the sale in February this year after the company said it was ceasing operations at the site.
Coigach Community Development Company made a bid for the premises in an effort to place it into community ownership.
However, HIE said the missives had been exchanged and it was too late to postpone Summer Isles Foods' purchase.
Mr Morgan told BBC Alba: "I think no matter how we approach this the impact on the community is going to be felt to be severe.
"Of the total workforce that we have currently, as I understand it, only one person of our full-time employees will be looking for a job.
"The rest of the staff we will be taking to Alness and we are going to have a package in place to help them fit into the community there."
On the firm's purchase of the Achiltibuie factory, Mr Morgan said: "We actually decided to buy the property at a moment in time when we hadn't any indications what we were going to do with it.
"Whether it is ourselves or HIE that have the property it has a future use of some sorts and we will talk to the local community about that."
'Will re-examine'
Carroll Buxton, director of regional development for HIE, said the agency had been disappointed by the closure of the unit.
She said: "While our policy of selling to tenants has supported many businesses in the past we will re-examine our processes to see if these circumstances can be avoided in future.
"HIE has since met with the community and the business and is brokering a relationship between them to consider options for the property to be of continued benefit to Achiltibuie.
"Summer Isles Foods has indicated that it is considering its options for the unit and that it is happy to discuss proposals from Coigach Community Development Company."