Scots roads staff 'critical' to Hollywood movie makers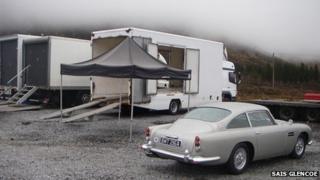 A council's roads department has emerged as an unlikely asset in attracting makers of TV adverts and Hollywood films to the Highlands.
Scenes for new James Bond Skyfall, Batman movie The Dark Knight Rises and Under the Skin, starring Scarlett Johansson, have been shot in the north.
A new report suggests "practical assistance" from Highland Council staff played an important role.
The help included closing roads for filming.
Highland Council's transport, environment and community services department (TEC) and also Scottish government agency Transport Scotland get a special mention inthe reportto councillors.
It said practical assistance was "the critical factor" in attracting a production company to shoot in the Highlands.
Last year, a section of the A82 near Rannoch Moor was shut for 10 minute periods over several days to shoot scenes featuring actress Johansson.
Film-makers also liaised with Transport Scotland last year about shutting part of the A9 in the Highlands.
Reportedly it was to allow a C130 Hercules transport plane to land on the trunk road. In the end, the scene was not shot.
In February this year, a car chase featuring an Aston Martin was filmed on a road near the White Corries in Glencoe for Skyfall.
According to the report to councillors, a commercial for Bentley cars has been shot in north west Sutherland.
Music videos
Colin Simpson, Highland Council's tourism co-ordinator and the report's author, wrote that the number of enquiries received by the local authority's film unit had declined.
He said: "Over the first three quarters of 2011-12 the overall number of enquiries was 25% down on 2010 reflecting an economic climate where productions are cutting budgets, particularly in the television and commercials markets.
"However there is still a healthy conversion rate with around a third of enquiries leading to completed projects which is comparable with previous years."
Later in the report, Mr Simpson highlighted the role of TEC services and also another reason why the Highlands might appeal to production companies.
He said: "Limited production budgets have had some beneficial effects in the Highlands with the UK seen as a more cost effective destination both for a number of large budget US productions and for filming commercials which might previously have gone to exotic locations."
Meanwhile, the number of music videos being shot in Scotland fell by half last year compared with 2010.
Eight were filmed in 2011 but 16 in 2010, according to figures from Creative Scotland.
Previous years saw 18 in 2009, 19 in 2008, 16 in 2007 and 17 in 2006.
Among the most recent videos to be shot include Liverpool electronic pop band Ladytron's film at a 5,000-year-old site on the Western Isles.
Scenes for the video to the song Mirage were shot at Calanais Standing Stones on the west coast of Lewis.
Creative Scotland said: "Scotland is an incredible location for filming, whether it's a music video, film, advert or fashion shoot.
"For musicians and bands looking to film in Scotland, we have everything from romantic landscapes and dramatic coastlines to contemporary urban spaces."
The spokesperson added: "For studio and recording space for your video, there are excellent venues around the country including Pacific Quay and Film City in Glasgow, Ironworks in Inverness, Studio Fas in Skye and Edinburgh Film Studios.
"Scotland has a rich and vibrant new music scene and it's great that bands and musicians chose to film their music videos here."