Rubber mats laid on railway at Stromeferry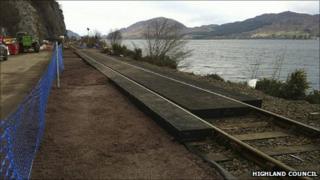 The first batch of rubber mats have been laid alongside tracks at Stromeferry in Wester Ross to allow road traffic onto the railway.
Highland Council is having the material called HoldFast installed to ease travel in the area.
A stretch of the A890 has been shut since December following landslides.
Traffic will be allowed onto the nearby railway when there are no trains passing through and until the risk of further slides is reduced.
The A890 helps to connect Lochcarron to Plockton, and its high school, and eventually with Kyle, on the opposite side of Loch Carron.
The road runs across the top of the sea loch to link up with the A896, the main road to Lochcarron.
To make the journey by road at the moment involves drivers having to take a 140-mile (225km) diversion, instead of the usual 18 miles (29km) from Lochcarron to Plockton.
The small car ferry has been running between North and South Strome since January, while a seal-watching boat has been ferrying schoolchildren.