Cargo ship runs aground off Uist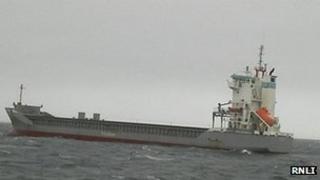 A cargo vessel has been escorted to Stornoway after it ran aground off North Uist on Monday night.
The 112m-long (367ft) Dutch-registered MV Flinterspirit became stuck on Flodday Mor Island on its way from Sweden to Belfast at about 22:45.
All 10 people on board were safe and well and the crew managed to successfully refloat the 4,500-tonne vessel at high tide at about 05:00.
RNLI lifeboats from Barra and Stornoway had escorted the vessel.
It will be inspected in Stornoway on Lewis before being allowed to continue its journey.
The accident came just days after the emergency coastguard tugboat was withdrawn from the Minch as part of a cost-cutting drive by the UK government.
Campaigners said incidents such as this highlighted the need to have a tug boat permanently stationed in the area.
The Anglian Sovereign, a tug hired by the Maritime and Coastguard Agency (MCA) to cover the Northern Isles, was sent to the scene from Orkney.
It remained in the Minch until the MV Flinterspirit reached safe anchorage.
Western Isles SNP MP Angus MacNeil said the withdrawal of the Lewis-based emergency towing vessel had left the west coast vulnerable.
He said: "The grounding of the Flinterspirit underlines the real risks that shipping face in these waters just days after the coastguard tug was removed from the Minch.
"We are only one incident away from tragedy and the UK government is putting lives at risk."
On Monday, the Scotland Office said talks were continuing about future emergency cover for the Western Isles.