Decision on new distillery in Lochaber deferred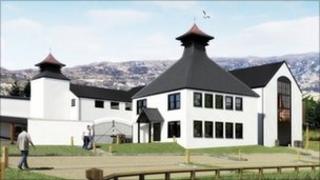 Councillors are to visit the site of a proposed new distillery in Lochaber to help them make a decision on its planning application.
Highland Council planning officials had recommended approval for the planned Adelphi Distillery at Glenbeg in Ardnamurchan.
The proposals also include warehousing and a visitor centre.
The planning application received 105 letters of support and 52 from objectors.
Keith Falconer, Adelphi Distillery chairman, said the company was disappointed the deferral but respected the councillors' decision.
He said: "We have always welcomed scrutiny of our investment proposals, and are happy to discuss any issues with elected members or the community.
"However, we are disappointed that the committee have not gone with the planning officer's recommendation to approve the proposals today for a distillery at Glenbeg."
Mr Falconer added: "All we ask is for the council to take the right decisions for the right reasons, and hopefully that can be done as quickly as possible."