Skipper of grounded vessel fined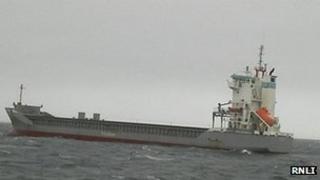 The skipper of a cargo ship has been fined £3,000 for failing to alter his course and prevent grounding the vessel on a small island off North Uist.
Konstantin Golubev, 40, was further fined £300 for being drunk while it was docked in Stornoway, Lewis, three days after the incident.
The Dutch-registered MV Flinterspirit became stuck on Flodday Mor on its way from Sweden to Belfast on 19 March.
The incident sparked a fresh row about the withdrawal of a coastguard tug.
Golubev, from St Petersburg, Russia, pleaded guilty to two charges at Stornoway Sheriff Court.
He admitted to not altering the cargo ship's course at a designated position as required.
The court heard he was asleep in his cabin when he should have been on the bridge.
In a separate matter, he admitted to being drunk in charge of the ship.
The ship's crew were able to refloat the vessel from Flodday Mor at high tide.
The MV Flinterspirit then headed to Stornoway for checks for any damage. It has since left for Belfast, but without Golubev.
Emergency towing
The incident came just days after the Western Isles' tug, Anglian Monarch, was withdrawn from coastguard duties.
Another tug, the Anglian Sovereign, which covers Orkney and Shetland, was sent to shadow the escort of a cargo ship to Lewis.
The Anglian Sovereign's coastguard contract ends on 31 March.
Other UK emergency towing vessels were withdrawn last year to help the UK government cut costs.
Talks are underway to replace the Anglian Sovereign with oil and gas industry vessel the Grampian Frontier.
The proposal is to locate it near the Schiehallion oil field and make it available to respond to any incident in Shetland and Orkney waters within 12 hours.