Babcock Dounreay Partnership awarded demolition contract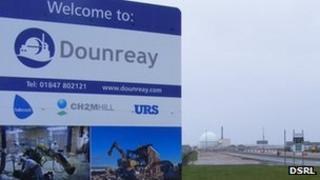 A contract to manage the company leading the demolition and clean-up of the Dounreay nuclear plant in Caithness has been formally awarded.
Babcock Dounreay Partnership, a consortium of UK and US companies, takes over Dounreay Site Restoration Limited (DSRL) from the UKAEA.
The demolition of the facility could be completed by 2022 and for £1bn less than previous estimates for the work.
All that would be left at the site would be nuclear waste stores.
The UK and Scottish governments have welcomed confirmation of the contract.
Scottish Secretary Michael Moore said Dounreay had been a beacon of "engineering excellence" in its operating days.
He added: "It is now a world centre of excellence in decommissioning skills."
Scottish Rural Affairs and the Environment Secretary Richard Lochhead said: "The Scottish government is committed to cleaning up the nuclear legacy it has inherited.
"Today's announcement is good news as it will allow Dounreay to enter its final decommissioning phase."
The consortium involves London headquartered Babcock, US-based CH2M Hill and URS, which has its headquarters in San Francisco.
In November 2011, it was named preferred bidder for the contract offered by the Nuclear Decommissioning Authority (NDA).
Babcock Dounreay Partnership is expected to take the decommissioning programme to what is called its interim end state where Dounreay's landmark dome and other buildings will be removed.
What would remain at Dounreay at the end of the contract would be a landscaped low-level waste store.
A small number of large heavily-shielded sheds containing about 20,000 tonnes of more highly radioactive waste would also remain.
About 100 tonnes of fuel still at the site - material that could be used in future electricity production - is expected to be moved to Sellafield in Cumbria for reprocessing.
The NDA has sought permission to start taking 44 tonnes of fuel in the summer and a decision about the rest of the material will be made later this year.
Caithness Solutions, another consortium of engineering and design firms, had also bid for the DSRL contract.
It comprised of Cheshire-registered engineering firm Amec and Salt Lake City-based nuclear services company EnergySolutions.