David MacBrayne reservations over Scottish ferries review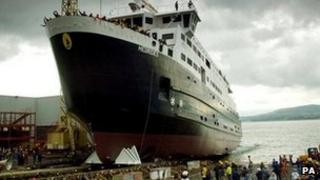 A state-owned ferry company has expressed reservations about some proposals being put forward in the Scottish government's ferriesreview.
The David MacBrayne Group is responsible for ferry operators Caledonian MacBrayne and Northlink.
It has welcomed a desire to prioritise the needs of communities who depend on ferry services and a commitment to invest in new vessels.
But it has concerns about the reduction or removal of some smaller services.
The group said it had sought clarification from Transport Scotland on what processes would be followed before final decisions were made.
It has also queried how the plans to increase sailings and introduce additional ships fit with the government's own ambitious targets for reducing carbon emissions.
The company has published its response on itswebsite.