Snow brings relief for Highland fire crews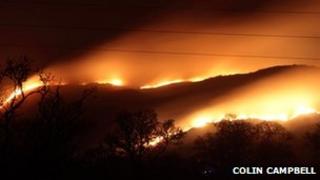 Fire crews in the Highlands are welcoming the change in weather which has given them a break from about two weeks of putting out wildfires.
Firefighters were still tackling moor and grass blazes near Nethybridge and Carrbridge on Monday, just hours before heavy snowfalls in the area.
Between 21-31 March, Highlands and Islands Fire and Rescue Service (HIFRS) dealt with more than 100 wildfires.
Deputy Chief Fire Officer Stewart Edgar has praised the crews' efforts.
He said: "The commitment and professionalism of all staff involved, over what has been an extremely busy week, has been second to none.
"After a period of unseasonably warm weather with extremely dry conditions, the rain and snow we are presently experiencing has brought sense of relief - not something I would have expected to say in April."
Last week, a number of homes at Aigas, near Beauly, had to be evacuated as firefighters fought a wildfire that was spreading towards them.
A stretch of the A9 in Sutherland was also closed temporarily while firefighters dealt with a moor fire.