Fresh snow raises avalanche risk in Scottish hills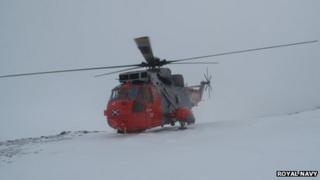 Fresh heavy snowfalls since the weekend have raised the risk of avalanches in the Scottish hills.
The threat has been deemed to be considerable in the Cairngorms and Lochaber and moderate in Glencoe and on Creag Meagaidh.
Warm weather had reduced the risk of snow slides.
The Mountaineering Council of Scotland (MCofS) has flagged up the latest warnings from the Sportscotland Avalanche Information Service (SAIS).
They have been issued following the return of colder conditions which caught out a group of walkers on Tuesday.
A mountain rescue team was called to assist the nine people - including six teenagers - left stuck by the snow in the Cairngorms.
They were later flown to safety in Braemar by a Royal Navy helicopter.
The group, from Belgium, had been climbing in the Ben Macdui area.
MCofS safety officer Heather Morning told BBC Radio Scotland that walkers and climbers should check weather and avalanche forecasts ahead of trips into the hills.
She said: "I think the most important thing is to do your homework before you head out.
"Also, make sure you have got the kit and are planning a trip suitable for the weather conditions."
Meanwhile, two new arrivals expected at the Highland Wildlife Park in the Cairngorms later should revel in the snowy weather.
Arktos, a polar bear, is being introduced from Hannover Zoo in Germany.
And Marty, an Amur tiger - also known as a Siberian tiger - who was previously kept at Olomouc Zoo in the Czech Republic.