Washing machine 'power slots' on Muck to end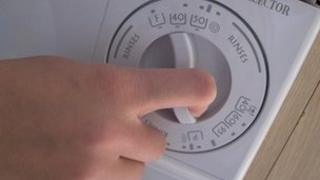 The need to ration electricity to nine hours a day on the Isle of Muck is set to end after residents secured funding to install renewable energy schemes.
The 38 islanders rely on diesel generators and are given slots when they can run washing machines.
Isle of Muck Community Enterprise Ltd has been awarded £978,840 from the Big Lottery Fund for renewables projects that would supply power 24 hours a day.
Islander Mark Johnson said it would make a huge difference to island life.
It is thought the islanders will be able to generate electricity through micro wind and hydro schemes.
Mr Johnson said: "As one of the few islands that are not connected to the National Grid, we have been existing on just a few hours of electricity a day.
"This award will allow us to have a continuous electricity supply using clean, sustainable, renewable sources for the great benefit of the community and the environment.
"It will hugely change our lives for the better and allow our population to stabilise and grow, safeguarding the community on Muck for years to come."
Muck is in the Small Isles of the Inner Hebrides, along with Eigg, Rum and Canna.