The Black Watch return to base after six months in Afghanistan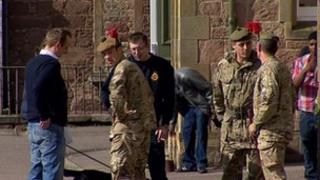 Soldiers from The Black Watch battalion have arrived back at their base at Fort George in the Highlands.
It follows a six month operational tour in Afghanistan where they were deployed in Helmand Province.
The battalion was responsible for a variety of roles including training and mentoring the Afghan security forces.
There will be a series of Homecoming Parades to thank family and friends for the support received during the deployment.
The parades will take place in Inverness, Forfar, Kirkcaldy, Dundee and Perth and will give communities a chance to show their appreciation for the work the battalion carried out while on their tour of duty.