Home sought for 1930s love letters found in Caledonian Canal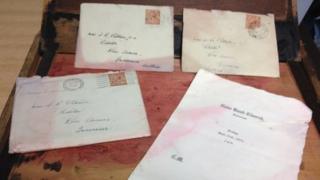 Police are trying to find a home for love letters from the 1930s found floating in a wooden box in a canal.
They are addressed to Miss S R Paterson, Bidston, Ross Avenue, Inverness, and postmarked Edinburgh, 19 August 1934.
The box was recovered from the Caledonian Canal at Dochgarroch, Inverness, in December last year.
Efforts to find an owner have been unsuccessful so far.
The letters were sent by Robert Wright from Catterick, Aldershot and Edinburgh to Sarah Paterson. The pair were believed to have later married.
Also inside the box was an invitation to a relative's wedding in 1974.
A spokeswoman for Northern Constabulary said: "There are a number of love letters and wedding invitations of great sentimental value inside the box and surprisingly, they are very well preserved for having been in the water.
"Efforts by the Lost/Found Property Department have failed to trace or identify an owner for the box and contents."
She added: "Does anybody have any knowledge of the lady or the address, who can assist with reuniting the box and letters with her or any family members?"
Northern Constabulary's Lost/Found Property Department can be contacted on 01463 228413.
Police said people who wished to remain anonymous could call Crimestoppers on 0800 555 111.