Inverness man bitten stealing ferrets to pay drugs debt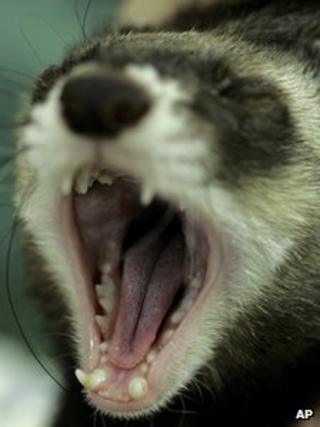 A man was bitten while trying to steal four ferrets which he planned to sell to pay off a drug debt, Inverness Sheriff Court has heard.
James Marshall, from Smithton, Inverness, broke into a shed with another man on 20 February and took two of the ferrets. The other two escaped.
The 20-year-old's actions were captured on CCTV installed in the shed.
Marshall was banned from leaving home between 22:00-06:00 and ordered to carry out 175 hours community work.
He had denied stealing four ferrets, four guinea pigs, three adult rabbits, four baby rabbits, a packet of bird feed, a plastic container, a skipping rope and two hutches.
Marshall also denied attempting to open a hutch and attempting to steal a rabbit.
However, he later admitted stealing the ferrets and attempting to steal a rabbit from a hutch.
The thefts were alleged to have happened while he was on bail.
Fiscal depute Karen Smith told the court that the owner of the ferrets was alerted to the incident by a security light being turned on in his garden.
The man found the door to his shed open and the four animals missing.
Ms Smith said: "He had CCTV installed and he could see two males going into the shed.
"One of them was Marshall who seemed to be bitten on the hand by one of the ferrets.
"This allowed two of them to escape and Marshall removed the other two."
Three days later, Marshall was seen attempting to break into a rabbit hutch to steal a rabbit.
His solicitor John McColl told the court: "It is a very odd case and displays peculiar behaviour.
"It seems the idea to steal four ferrets was not his but the person with whom he was acting.
"He came up with the hair brained scheme because he wanted to sell them to pay off a drug debt."
Mr McColl added: "My client is an animal lover and is disgusted with himself and is extremely sorry."