Police find a home for 1930s love letters found in canal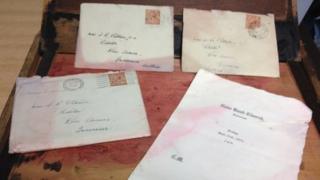 Police say they have solved the mystery of love letters from the 1930s which were found floating in a wooden box in the Caledonian Canal near Inverness.
The letters, written by Robert Wright to his bride-to-be Sarah Paterson, were handed into Northern Constabulary in December last year.
Following an appeal by officers, it has emerged that the couple and their son and daughter had passed away.
A close friend of the family has been given the box and the letters.
Police said the woman, who lives near the canal, had been looking after the items following Mr Wright's death.
During a clear out she had placed the box on her porch.
The box disappeared and was later found in the canal by a neighbour, who handed it into the police.
Mr Wright taught at Inverness Royal Academy for 27 years.
He retired in 1974 and was understood to have died in his late 90s in 2007.
Mr Wright sent the letters from Catterick, Aldershot and Edinburgh in the 1930s. He married Ms Paterson in 1937.