Plans lodged for major offshore wind farm in Moray Firth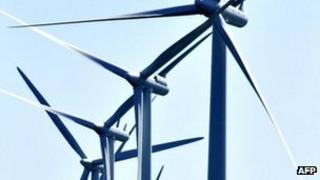 Planning permission has been sought from the Scottish government for what could become one of the world's largest offshore wind farms.
Beatrice Offshore Windfarm Ltd (Bowl) wants to install up to 277 turbines off the Caithness coast in the Moray Firth.
If approved, it would be bigger than the 102-turbine farm off Cumbria which is described as the world's largest.
However, the Moray Offshore Renewables consortium is proposing an even larger 350-turbine farm in the Moray Firth.
Bowl involves SSE Renewables and Repsol Nuevas Energias UK.
Its application was announced on the same day US entrepreneur Donald Trump was giving evidence to a Scottish Parliament inquiry into wind farms.
Bowl said its 1,000 megawatt development was planned for a site about eight miles (13.5km) off the Caithness coast.
The farm would be close to the two-turbine Beatrice Demonstrator Project.
Jim Smith, managing director of SSE Renewables, said it would make a significant contribution to meeting European Union renewable energy goals for 2020.
He said: "This is an important milestone for the project and we look forward to working with the relevant stakeholders to ensure a positive outcome for the application.
"If the planning application is successful, any final decision to invest in the project is unlikely to be taken before 2014 at the earliest."
Ronnie Bonnar, managing director of Repsol Nuevas Energias UK, added: "Offshore wind energy will be critical to delivering the UK's energy needs in the coming decades and Repsol is committed to being at the heart of this emerging industry."