Highland Wildlife Park's red panda Jodie put down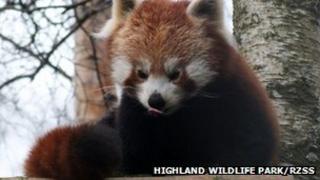 A park's red panda has been put down after its health deteriorated.
Staff at the Highland Wildlife Park, near Kincraig, said Jodie had been having trouble breathing and keeping her balance.
The panda, which had spent time at Edinburgh Zoo before being moved north in 2008, had been living on her own since her partner Babu died.
Last month, a female Amur tiger at the park was put down after her health started to fail.
In a statement, the Highland Wildlife Park said: "Sadly on Monday afternoon we had to put Jodie, our red panda, to sleep.
"She had a third episode of losing balance, with laboured breathing, and we didn't want her to suffer any more.
"She has always been a firm favourite with both staff and visitors alike."