Guga tasting offered at Scotland's Festival of Museums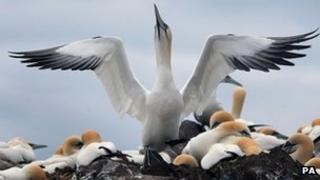 A chance to sample guga - a delicacy on the Western Isles - will be offered during Scotland's Festival of Museums.
Guga is the meat of young gannets, which are harvested in summer from the island of Sula Sgeir, about 40 miles (64km) north of Ness on Lewis.
The meat is described as grey, strong-smelling and salty.
Ness Historical Society will offer it during an event on the traditional hunt when previously unseen video and images of the hunters will be shown.
The Festival of Museums will be take place from 18-20 May, with several events being held in the Highlands and Islands.
An Lanntair Arts Centre and Museum nan Eilean on Lewis will explore the history of Lews Castle.
It was constructed as a residence for James Matheson who made his fortune exporting opium from China and India.
Tain and District Museum will display images from its collection of photographs, while old photographs of Dunbeath School have been sought for an event in Dunbeath, Caithness.
Caithness Horizons in Thurso will celebrate the opening of its new exhibition on the Dounreay nuclear power plant.
Vintage croft implements are to be displayed at Bettyhill Village Hall.
Glencoe and North Lorn Folk Museum will host a Meet the Jacobites event.
It will examine the story of Alan Breck Stewart, a Jacobite soldier who became the inspiration for Robert Louis Stevenson's Kidnapped novel.
Exhibits will include weapons that remained concealed in homes for more than 200 years after the Battle of Culloden, near Inverness, in 1746.