SNP to lead Highland Council coalition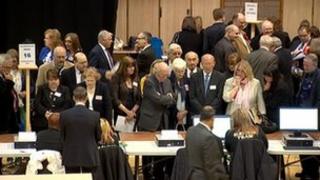 The SNP is to lead a coalition on Highland Council after reaching agreement with Labour and the Liberal Democrats, it has been confirmed.
The move has resulted in the Independents, who form the largest group on the council, being frozen out of power for the first time.
The SNP said the coalition agreement was great news for the Highlands.
The Independent councillors claimed the three parties had pursued their own agenda at the expense of voters.
Following last week's local authority elections, there are 35 Independent, 22 SNP, 15 Lib Dem and eight Labour councillors in Highland.
Drew Hendry, of the SNP, said his party opened negotiations with all groups in the council before forming a coalition with Labour and the Lib Dems.
He said: "We found that this was the most stable way to take forward both the challenges and the opportunities that we have within Highland and the best way to manage better services for our people."
Liberal Democrat David Alston said there would be no place for "party political fighting in the council chamber".
He added: "The independents were looking for power, looking for a role in the coalition, but I think looking for it without the responsibility."
Labour's Jimmy Gray said the majority of voters chose political party candidates.
Carolyn Wilson, who leads the Independents' group, said its members were "used" during coalition talks.
She said: "We said all the way through the campaign that this was about individuals and not about politics.
"I think we were used as a toy in a game. It was a cat playing with a mouse."
She said the group's members had "a real good reason" for feeling insulted by what had happened.