All Highlands and Islands fire stations 'sustainable'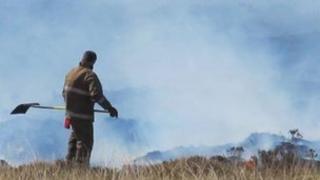 All fire stations across the Highlands and Islands can stay open if sufficient retained firefighters are recruited, according to a senior officer.
Earlier this year, four stations were temporarily shut or "taken off the run" due to concerns over safety.
Highlands and Islands Fire and Rescue Service (HIFRS) was later criticised by the Accounts Commission.
However, Deputy Chief Fire Officer Stewart Edgar said "community commitment" could keep stations open.
The service - which has one full-time station, 95 part-time retained stations and 23 community response units - is holding a series of public meetings to explain the future running of its stations.
Following one of the meetings in Stornoway on Lewis, Mr Edgar said: "Every station within the Highlands and Islands, and specifically in the Western Isles, is potentially suitable.
"That said, it depends on the community commitment."
He added: "Clearly we need people who want to become retained firefighters within their local community."
Further meetings are to be held across the Highlands and Islands.
In March, the Accounts Commission said it had serious concerns about how HIFRS was run and the level of training provided to its crews.
Following the publication of the report, the service said it had made "significant" progress in improving training.