RAF Odiham Chinook airlifts stranded Lossiemouth Sea King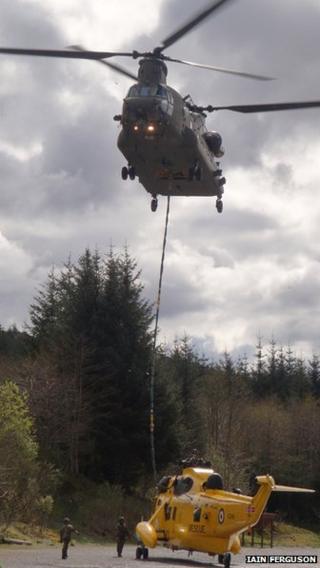 An RAF Sea King helicopter suffered a technical fault during a rescue operation in the Scottish mountains on Monday, it has emerged.
The helicopter and crew from RAF Lossiemouth in Moray had gone to the aid of two walkers who had got stuck in bad weather near Aonach Mor.
The Sea King landed safely at about 2,000ft (609m) near the mountain.
A Chinook from RAF Odiham in North Hampshire airlifted the machine out of the hills on Wednesday.
Members of RAF Leuchars Mountain Rescue Team in Fife guarded the grounded machine until it could be taken away for repairs.
Lochaber Mountain Rescue Team and a Royal Navy helicopter crew from HMS Gannet in Ayrshire also assisted in Monday's rescue.
The hillwalkers and RAF aircrew were uninjured and all rescued safely.
In February 2006, another Sea King from Lossiemouth became stranded in the Cairngorms during a whiteout.
The helicopter crew of Sgt Andy Elwood, pilot Sqd Ldr Iain MacFarlane, co-pilot Flt Lt Jane Mannering and radar operator Flt Sgt James Lyne had been training over Spey Bay in Moray when they got the call-out.
A climber had fallen in Coire an t-Sneachda - Corrie of the Snows.
During the rescue the weather worsened and the crew landed in the corrie as they were unable to navigate safely from the scene.
The machine's rotors were also icing up affecting its performance.
The aircrew and climber were picked up by mountain rescuers.
Nine days later, the stranded Sea King was defrosted and flown out.
Heating experts de-iced the helicopter allowing it to fly to Glenmore Lodge, before it was flown to RAF Lossiemouth.
Under UK government plans, the RAF and Royal Navy are expected to give up providing the helicopter cover by 2016.
The move will see the military's ageing Sea Kings replaced by newer helicopters operated by civilian contractors.