Rescuers hand-rear baby squirrel found by dog in Inverness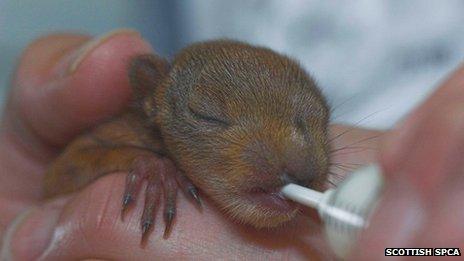 A baby red squirrel is being hand-reared after being found by a dog in woodland.
The dog picked up the one-week-old kit in its mouth during a walk in Inverness and carried it back to its owner.
The kit has been taken into the Scottish SPCA's care and has been nicknamed Squirrelly.
After a night at the charity's centre in Inverness, the squirrel was transferred to the National Wildlife Rescue Centre in Clackmannanshire.
Centre manager Colin Seddon said the squirrel would remain at the centre until it is 10 weeks old, when it will be released back into the wild.
He said: "Squirrelly really struggled when he first came in but he is now feeding well.
"It's likely he has fallen out of a tree as he is too young to be by himself.
"He's being syringe-fed every two to three hours and he'll then be moved on to solid food."
Related Internet Links
The BBC is not responsible for the content of external sites.